Public Participation on IDP, MTREF, SDF & Budget Policies for 2022/2027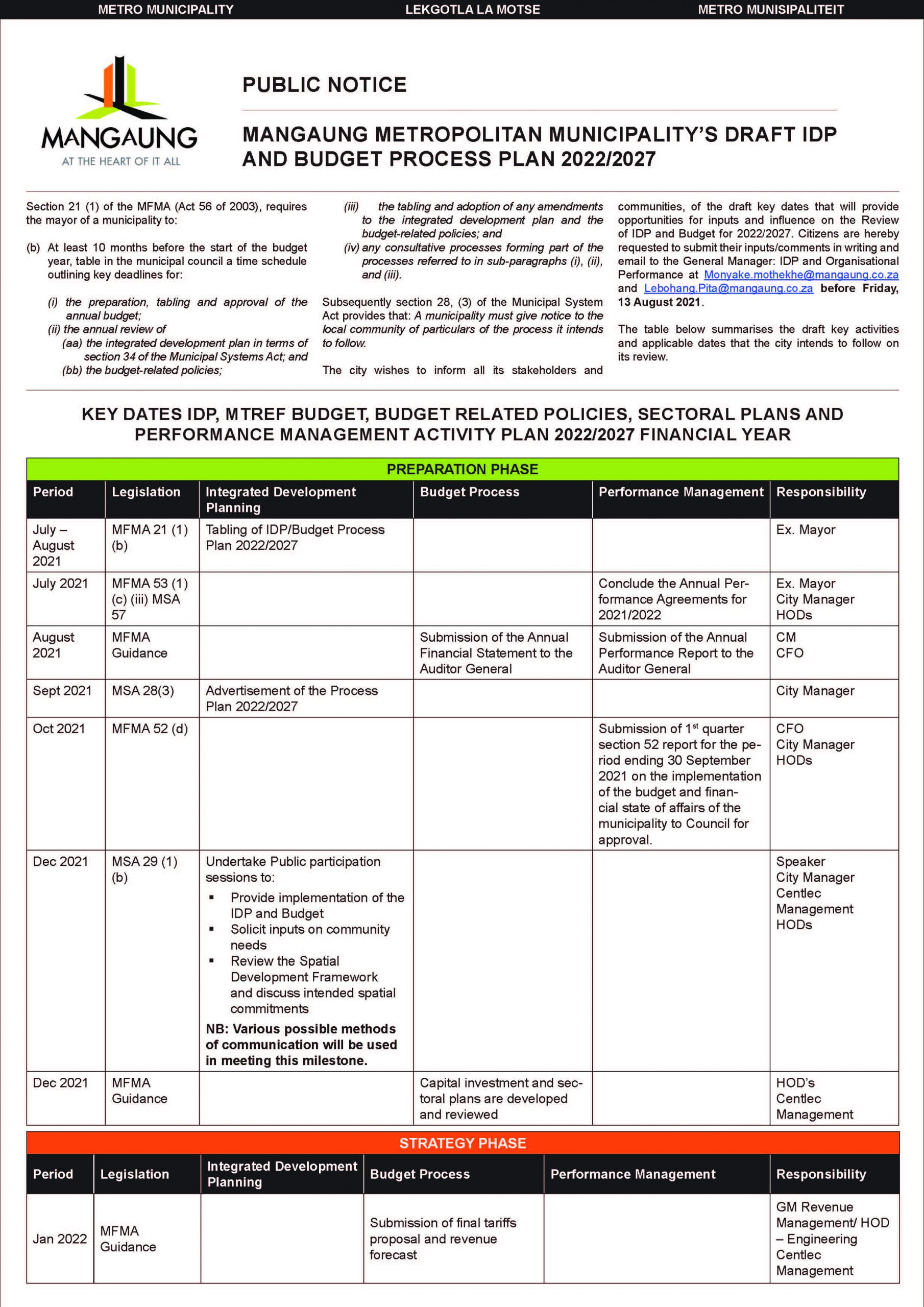 ---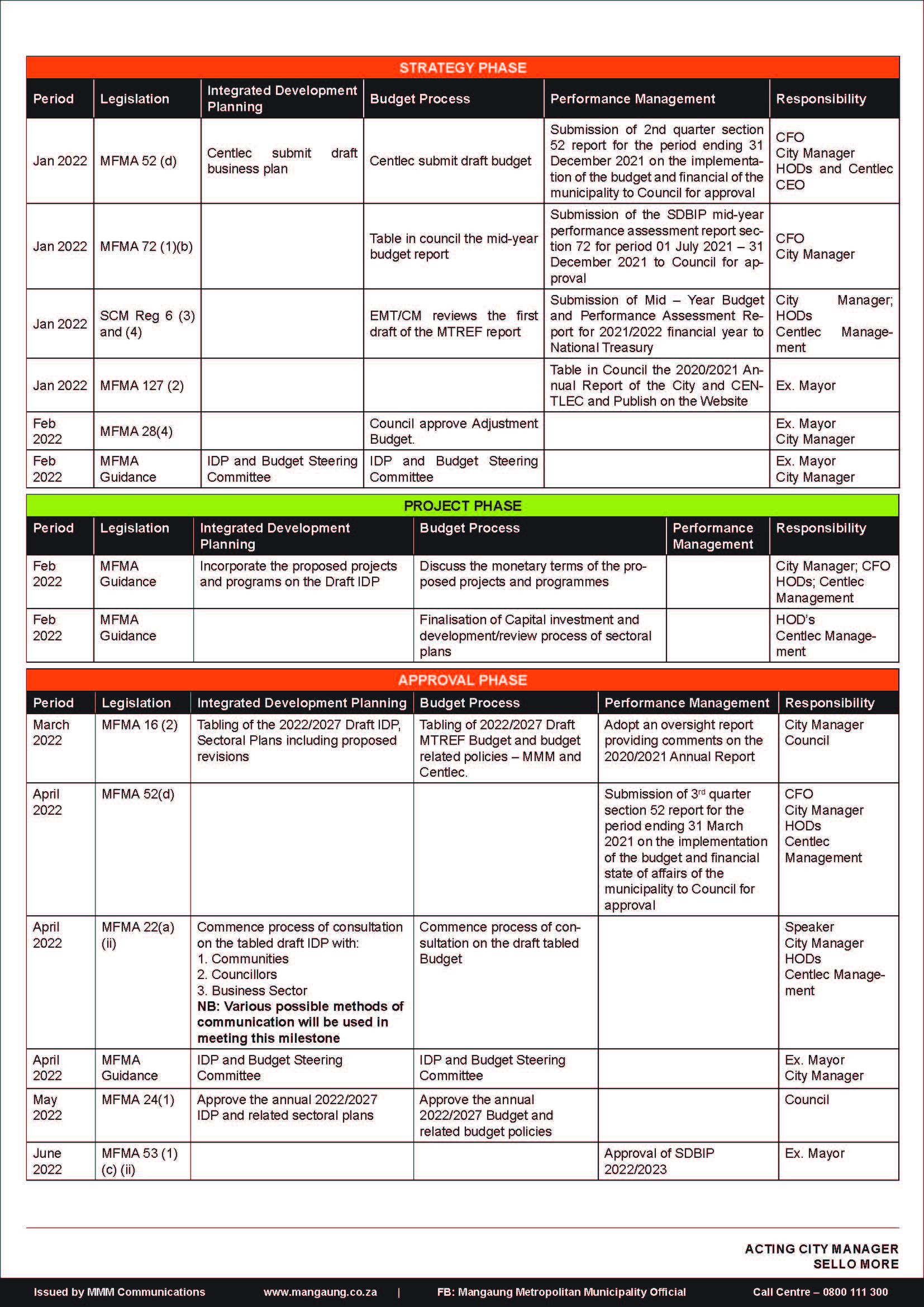 ---
Public Notice: Mangaung Metropolitan Municipality's Draft IDP AND Budget Process Plan 2022/2027
Section 21 (1) of the MFMA (Act 56 of 2003), which requires the mayor of a municipality to:
(b) At least 10 months before the start of the budget year, table in the municipal council a time schedule outlining key deadlines for:
(i) the preparation, tabling and approval of the annual budget;
(ii) the annual review of

(aa) the integrated development plan in terms of section 34 of the Municipal Systems Act; and
(bb) the budget-related policies;

(iii) the tabling and adoption of any amendments to the integrated development plan and the budget-related policies; and
(iv) any consultative processes forming part of the processes referred to in subparagraphs (i), (ii), and (iii).
Subsequently section 28, (3) of the Municipal System Act provides that:
A municipality must give notice to the local community of particulars of the process it intends to follow.
The city wishes to inform all its stakeholders and communities, of the draft key dates that will provide opportunities for inputs and influence on the Review of IDP and Budget for 2022/2027. The citizens are hereby requested to submit their inputs/comments in writing and email to the General Manager: IDP and Organisational Performance at monyake.mothekhe@mangaung.co.za or lebohang.pita@mangaung.co.za before Friday, 13 August 2021. The table below summarises the draft key activities and applicable dates that the city intends to follow on its review.
Sello More – Acting City Manager
---
Key dates IDP, MTREF Budget, Budget related policies, Sectoral Plans and Performance Management Activity Plan 2022/2027 financial year
Preparation Phase
Period
Legislation
Integrated Development Planning
Budget Process
Performance Management
Responsibility
July – August 2021
MFMA 21

(1)(b)

Tabling of IDP/Budget Process Plan 2022/2027
Ex. Mayor
July 2021
MFMA 53 (1) (c) (iii) MSA 57

Conclude the Annual Performance Agreements for 2021/2022
Ex. Mayor

City Manager

HODs

August 2021
MFMA Guidance
Submission of the Annual Financial Statement to the Auditor General
Submission of the Annual Performance Report to the Auditor General
CM

CFO

Sept 2021
MSA 28(3)
Advertisement of the Process Plan 2022/2027
City Manager
Oct 2021
MFMA 52 (d)
Submission of 1st quarter section 52 report for the period ending 30 September 2021 on the implementation of the budget and financial state of affairs of the municipality to Council for approval.
CFO

City Manager

HODs

Dec 2021
MSA 29 (1) (b)

Undertake Public participation sessions to:

§  Provide implementation of the IDP and Budget

§  Solicit inputs on community needs

§  Review the Spatial Development Framework and discuss intended spatial commitments

NB: Various possible methods of communication will be used in meeting this milestone.

Speaker

City Manager

Centlec Management

HODs

Dec 2021
MFMA Guidance
Capital investment and sectoral plans are developed and reviewed
HOD's

Centlec Management
Strategy Phase
Period
Legislation
Integrated Development Planning
Budget Process
Performance Management
Responsibility
Jan 2022
MFMA Guidance
Submission of final tariffs proposal and revenue forecast
GM Revenue Management/ HOD – Engineering

Centlec Management

Jan 2022
MFMA 52 (d)
Centlec submit draft business plan
Centlec submit draft budget
Submission of 2nd quarter section 52 report for the period ending 31 December 2021 on the implementation of the budget and financial of the municipality to Council for approval
CFO

City Manager

HODs and Centlec CEO

Jan 2022
MFMA 72 (1)(b)
Table in council the mid-year budget report
Submission of the SDBIP mid-year performance assessment report section 72 for period 01 July 2021 – 31 December 2021 to Council for approval
CFO

City Manager

Jan 2022
SCM Reg 6 (3) and (4)
EMT/CM reviews the first draft of the MTREF report

Submission of Mid – Year Budget and Performance Assessment Report for 2021/2022 financial year to National Treasury
City Manager

HODs

Centlec Management

Jan 2022
MFMA 127 (2)
Table in Council the 2020/2021 Annual Report of the City and CENTLEC and Publish on the Website
Ex. Mayor
Feb 2022
MFMA 28(4)
Council approve Adjustment Budget.
Ex. Mayor

City Manager

Feb 2022
MFMA Guidance
IDP and Budget Steering Committee
IDP and Budget Steering Committee
Ex. Mayor

City Manager
Project Phase
Period
Legislation
Integrated Development Planning
Budget Process
Performance Management
Responsibility
Feb 2022
MFMA Guidance
Incorporate the proposed projects and programs on the Draft IDP
Discuss the monetary terms of the proposed projects and programmes
City Manager

CFO

HODs

Centlec Management

Feb 2022
MFMA Guidance
Finalisation of Capital investment and development/review process of sectoral plans
HOD's

Centlec Management
Approval Phase
Period
Legislation
Integrated Development Planning
Budget Process
Performance Management
Responsibility
March 2022
MFMA 16 (2)
Tabling of the 2022/2027 Draft IDP, Sectoral Plans including proposed revisions
Tabling of 2022/2027 Draft MTREF Budget and budget related policies – MMM and Centlec.
Adopt an oversight report providing comments on the 2020/2021 Annual Report
City Manager

Council

April 2022
MFMA 52(d)
Submission of 3rd quarter section 52 report for the period ending 31 March 2021 on the implementation of the budget and financial state of affairs of the municipality to Council for approval
CFO

City Manager

HODs

Centlec Management

April 2022
MFMA 22(a)(ii)
Commence process of consultation on the tabled draft IDP with:

1. Communities

2. Councillors

3. Business Sector

NB: Various possible methods of communication will be used in meeting this milestone

Commence process of consultation on the draft tabled Budget
Speaker

City Manager

HODs

Centlec Management

April 2022
MFMA Guidance
IDP and Budget Steering Committee
IDP and Budget Steering Committee
Ex. Mayor

City Manager

May 2022
MFMA 24(1)
Approve the annual 2022/2027    IDP and related sectoral plans
Approve the annual 2022/2027 Budget and related budget policies
Council
June 2022
MFMA 53 (1) (c) (ii)

 

Approval of SDBIP 2022/2023
Ex. Mayor